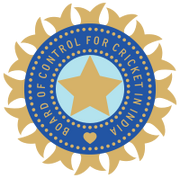 The Indian cricket team is the national Cricket team of India. Governed by the Board of Control for Cricket in India (BCCI), it is a full member of the International Cricket Council (ICC) with Test and One Day International (ODI) status.
The Indian cricket team is currently ranked fifth by the ICC in Tests[1], third in ODIs and third in T20s.[2] On 2 April 2011, the team won the 2011 Cricket World Cup, its second after 1983. It thus became only the third team after West Indies and Australia to have won the World Cup more than once.[3] Its is first cricket team to win world cup on home soil. In both Tests and ODIs, win-loss ratio of recent years is much higher than that of older periods, when it was a weaker team. Currently Mahendra Singh Dhoni is the captain in all forms of the game while Duncan Fletcher is the coach. Under the leadership of Dhoni, the Indian team has set a national record for most back-to-back ODI wins (9 straight wins)[4] and has emerged as one of the most formidable teams in international cricket.[5]
Although cricket was introduced to India by European merchant sailors in the 18th-century and the first cricket club in India was established in Calcutta in 1792, India's national cricket team did not play their first Test match until 25 June 1932 at Lord's.[6] They became the sixth team to be granted Test cricket status.[7] In their first fifty years of international cricket, India proved weaker than Australia and England, winning only 35 of the 196 test matches.[8] The team, however, gained strength near the end of the 1970s with the emergence of players such as Sunil Gavaskar, Kapil Dev and the Indian spin quartet—Erapalli Prasanna and Srinivas Venkataraghavan (both off spinners), Bhagwat Chandrasekhar (a leg spinner), and Bishen Singh Bedi (a left-arm spinner). Traditionally much stronger at home than abroad, the Indian team has improved its overseas form since the start of the 21st century. It won the Cricket World Cup in 1983 under Kapil Dev, was runners-up in 2003 under Sourav Ganguly, and won the World Cup a second time in 2011 under MS Dhoni. India have also been the Runners-up in 2000 ICC KnockOut Trophy, and the Joint Champions along with Sri Lanka in 2002 ICC Champions Trophy led by Sourav Ganguly in both the instances. India also won the inaugural World Twenty20 under Mahendra Singh Dhoni in 2007. The current team contains many of the world's leading players, including Sachin Tendulkar and Virender Sehwag who hold numerous cricketing world records.[9]
History
[
]
Main article: History of the Indian cricket teamSee also: History of cricket in India to 1918, History of cricket in India from 1918–19 to 1945, History of cricket in India from 1945–46 to 1960, History of cricket in India from 1960–61 to 1970, History of cricket in India from 1970–71 to 1985, History of cricket in India from 1985–86 to 2000 and History of cricket in India from 2000–01 Kumar Shri Ranjitsinhji was an Indian who played for the English cricket teamThe British brought cricket to India in the early 1700s, with the first cricket match played in 1721.[10] In 1848, the Parsi community in Bombay formed the Oriental Cricket Club, the first cricket club to be established by Indians. After slow beginnings, the Europeans eventually invited the Parsis to play a match in 1877.[11] By 1912, the Parsis,Sikhs, Hindus, and Muslims of Bombay played a quadrangular tournament with the Europeans every year.[11] In the early 1900s, some Indians went on to play for the English cricket team. Some of these, such as Ranjitsinhji and KS Duleepsinhji were greatly appreciated by the British and their names went on to be used for the Ranji Trophy and Duleep Trophy- two major first class tournaments in India. In 1911, an Indian team went on their first official tour of England, but only played English county teams and not the English cricket team.[12] India was invited into The Imperial Cricket Council in 1926 and made its debut as a Test-cricket-playing-nation in 1932 led by CK Nayudu.[13] The match was given Test status despite being only 3 days in length. The team was not strong in its batting at this point and went on to lose by 158 runs.[14] The Indian team continued to improve throughout the 1930s and '40s but did not achieve an international victory during this period. The team's first series as an independent country was in 1948 against Sir Donald Bradman's Invincibles (a name given to the Australia national cricket team of that time). Australia won the five-match series, 4–0.[15]
India recorded their first Test victory against England at Madras (now Chennai) in 1952.[16] Later in the same year, they won their first Test series, which was against Pakistan.[17] They continued their improvement throughout the early 1950s with a series win against New Zealand in 1956. However, they did not win again in the remainder of the decade and lost badly to strong Australian and English sides. The next decade saw India's reputation develop as a team with a strong record at home. They won their first Test series against England at home in 1961–62, and also won a home series against New Zealand. They also managed to draw home series against Pakistan and Australia, and another series against England. In this same period, India also won its first series outside the subcontinent, against New Zealand in 1967–68.
The key to India's bowling in the 1970s were the Indian spin quartet – Bishen Bedi, E.A.S. Prasanna, BS Chandrasekhar and Srinivas Venkataraghavan. This period also saw the emergence of two of India's best ever batsmen, Sunil Gavaskar and Gundappa Viswanath. Indian pitches have had tendency to support spin and the spin quartet exploited this to create collapses in opposing batting line-ups. These players were responsible for the back-to-back series wins in 1971 in the West Indies and in England, under the captaincy of Ajit Wadekar. Gavaskar scored 774 runs in the West Indian series while Dilip Sardesai's 112 played a big part in their one Test win. [1][2]A graph showing India's Test match results against all Test match teams from 1932 to September 2006The advent of One-Day International cricket in 1971 created a new dimension in the cricket world. However, India was not considerably strong in ODIs at this point and batsmen such as the captain Gavaskar were known for their defence-based approaches to batting. India began as a weak team in ODIs and did not manage to qualify for the second round in the first two editions of the Cricket World Cup. Gavaskar infamously blocked his way to 36 not out off 174 balls against England in the first World Cup in 1975, India scored just 132 for 3 and lost by 202 runs.
In contrast, India fielded a strong team in Test matches and were particularly strong at home where their combination of stylish batsman and beguiling spinners were seen at their best. India set a then test record in the third Test against the West Indies at Port-of-Spain in 1976 when they chased 403 to win thanks to 112 from Vishwanath. This West Indian defeat is considered to be a watershed in the history of their cricket because it led to captain Clive Lloyd dispensing with spin altogether and relying entirely on a four man pace attack. In November 1976 the team established another record by scoring 524 for 9 declared against New Zealand at Kanpur without an individual scoring a century. There were six fifties, the highest being 70 by Mohinder Amarnath. The innings was the eighth instance in Test cricket where all eleven batsmen reached double figures.
During the 1980s, India developed a more attack minded batting line-up with stroke makers such as the wristy Mohammed Azharuddin, Dilip Vengsarkar and all-rounder Ravi Shastri prominent during this time. India won the Cricket World Cup in 1983, defeating the then favourites West Indies in the final, owing to a strong bowling performance. In spite of this the team performed poorly in the Test arena, including 28 consecutive Test matches without a victory. In 1984, India won the Asia Cup and in 1985, won the World Championship of Cricket in Australia. Apart from this, India remained a very weak team outside the Indian subcontinent. India's Test series victory in 1986 against England remained the last Test series win by India outside the subcontinent for the next 19 years. The 1987 Cricket World Cup was held in India. The 1980s saw Gavaskar and Kapil Dev(India's best all rounder to this date) at the pinnacle of their careers. Gavaskar made a Test record 34 centuries as he became the first man to reach the 10,000 run mark. Kapil Dev later became the highest wicket taker in Test cricket with 434 wickets. The period was also marked by an unstable leadership, with Gavaskar and Kapil exchanging the captaincy several times. [3][4]With 619 wickets, Anil Kumble is the world's third highest wicket taker in Tests and India's highest Test and ODI wicket taker .[18]The addition of Sachin Tendulkar and Anil Kumble to the national side in 1989 and 1990 further improved the team. The following year, Javagal Srinath, India's fastest bowler since Amar Singh made his debut. Despite this, during the 1990s, India did not win any of its 33 Tests outside the subcontinent while it won 17 out of its 30 Tests at home. After being eliminated by neighbours Sri Lanka on home soil at the 1996 Cricket World Cup, the team underwent a year of change as Sourav Ganguly and Rahul Dravid, later to become captains of the team, made their debut in the same Test at Lord's. Tendulkar replaced Azharuddin as captain in late 1996, but after a personal and team form slump, Tendulkar relinquished the captaincy and Azharuddin was reinstalled at the beginning of 1998. With the captaincy burden removed, Tendulkar was the world's leading run-scorer in both Tests and ODIs, as India enjoyed a home Test series win over Australia, the best ranked team in the world. After failing to reach the semifinals at the 1999 Cricket World Cup, Tendulkar was again made captain, and had another poor run, losing 3–0 on a tour of Australia and then 2–0 at home to South Africa. Tendulkar resigned, vowing never to captain the team again, with Sourav Ganguly appointed the new captain. The team was further damaged in 2000 when former captain Azharuddin and fellow batsman Ajay Jadeja were implicated in a match-fixing scandal and given life and five years bans respectively. This period was described by the BBC as "the Indian cricket's worst hour". However, the new core - Sachin Tendulkar, Rahul Dravid, Anil Kumble and Sourav Ganguly - swore not to let this happen to them again - and lead Indian cricket out of the dark ages. And the first three happily put aside personal ambition to let Ganguly lead them into a new era.[19]
Since 2000, the Indian team underwent major improvements with the appointment of John Wright as India's first ever foreign coach. India maintained their unbeaten home record against Australia in Test series after defeating them in 2001. The series was famous for the Kolkata Test match, in which India became only the third team in the history of Test cricket to win a Test match after following on. Australian captain Steve Waugh labelled India as the "Final Frontier" as a result of his side's inability to win a Test series in India.[20] Victory in 2001 against the Australians marked the beginning of a dream run for India under their captain Sourav Ganguly, winning Test matches in Zimbabwe, Sri Lanka, West Indies and England. The England series is also known for India's highest ODI run-chase of 325 runs at Lord's which came in the Natwest ODI Series final against England. In the same year, India were joint winners of the ICC Champions Trophy with Sri Lanka, and then went to the 2003 Cricket World Cup in South Africa where they reached the final only to be beaten by Australia. The 2003–2004 season also saw India play out a Test series in Australia where they drew 1–1 with world champions, and then win a Test and ODI series in Pakistan. [5][6]The Indian cricket team in action in the Wankhede StadiumAt the end of the 2004 season, India suffered from lack of form and fitness from its older players. A defeat in a following home Test series against Australia was followed by an ODI home series defeat against Pakistan followed by a Test series levelled 1–1. Greg Chappell took over from John Wright as the new coach of the Indian cricket team following the series, and his methods proved to be controversial during the beginning of his tenure. The tension resulted in a fallout between Chappell and Ganguly, resulting in Rahul Dravid being made captain. This triggered a revival in the team's fortunes, following the emergence of players like Mahendra Singh Dhoni, Suresh Raina, and the coming of age of players like Irfan Pathan and Yuvraj Singh. A thumping home series victory over Sri Lanka in 2005 and a drawn series with South Africa put India at 2nd place in the ICC ODI rankings. This was followed by a convincing ODI series win in Pakistan in early 2006 following a loss in the Test series, which gave India the world record of 17 successive ODI victories while batting second.[21] Towards the middle of 2006 however, a 4–1 series loss in the West Indies gave rise to a slump in India's ODI form, while they achieved a 1–0 victory in the Test series that followed, giving them their first Test series victory in the Caribbean since 1971. India's ODI form, however, slumped further with a disappointing performance in the 2006 Champions Trophy and a drubbing in the ODI series in South Africa. This was followed yet again by an initial good performance in the Tests, giving India its first Test match win in South Africa, although they went on to lose the series 2–1. This Test series was marked by Ganguly's comeback to the Indian team.[22]
The beginning of 2007 had seen a revival in the Indian team's ODI fortunes before the 2007 Cricket World Cup. Series victories against the West Indies and Sri Lanka, marked by the comeback of Ganguly, and strong form by Tendulkar, and the emergence of young attacking players like Robin Uthappa saw many pundits to tip India as a real chance to do well at the 2007 Cricket World Cup. However, defeats to Bangladesh and Sri Lanka saw India fail to reach the final eight. India's traditional strengths have always been its line-up of spin bowlers and batsmen.[23] Recently, it has a very strong batting line-up with Rahul Dravid, Sachin Tendulkar and Virender Sehwag all being selected to play for the ICC World XI in the 2005 "SuperTest" against Australia. In previous times, India was unique in that it was the only country to regularly field three spinners in one team, whereas one is the norm, and of the fifteen players to have taken more than 100 wickets, only four were pace bowlers from the last 20 years.[24] However in recent years, Indian pace bowling has improved, with the emerging talents of Zaheer Khan, Irfan Pathan, Rudra Pratap Singh, Munaf Patel and Ishant Sharmamany more playing in the national team. [7][8]In December 2006, it played and won its first ever Twenty20 international in South Africa, becoming the most recent Test team to play Twenty20 cricket. After winning the Test series against England in August 2007, Rahul Dravid stepped down as the captain of the team following which Mahendra Singh Dhoni was made the captain of the Twenty20 and ODI team. In September 2007, it won the first ever Twenty20 World Cup held in South Africa, beating Pakistan by 5 runs in the final. Then they toured Australia with a controversial series that they lost 2–1 in test but come back for a whitewash final against them.[25]
After beating Sri Lanka 2–0 in December 2009, India become the No. 1 team in the world. then retained by drawing a series to South Africa and Sri Lanka confirmed their rankings. In October 2010 India won the test series 2–0 against Australia giving them back to back series win vs them. Then they got the first drawn series in South Africa.[26] When India slipped to a 4–0 defeat to England in August 2011, England replaced India as the No. 1 Test team.[27]
India's results in international matches
Matches
Won
Lost
Drawn
Tied
No result
Inaugural Match
Test[28]
464
114
147
202
1
–
25 June 1932
ODI[29]
809
401
367
-
6
35
13 July 1974
T20I[30]
41
23
17
–
0
1
1 December 2006
On 2 April 2011, India won the 2011 Cricket World Cup, defeating Sri Lanka in the final, thus becoming the second team after West Indies and Australia to win it twice, the previous win being in 1983. Gautam Gambhir and the skipper Mahendra Singh Dhoni led the way with classy innings of 97 and 91*, respectively. As Sri Lanka's stalwart batsman Mahela Jayawardene scored a brilliant 88-ball 103-run century and yet ended up on the losing side, he also became the first player in World Cup final history to end up on the losing side despite scoring a century.[31]
The retirement of Rahul Dravid and VVS Laxman from Test cricket in 2012 - and Saurav Ganguly before than in 2008 - signaled the end of the fabled middle order batting line up Indian had for a decade. Now, only Sachin Tendulkar, the last of the so-called "Fab Four" who resurrected Indian cricket after the infamous match fixing scandals, remains in international cricket.[32] See also: India at the Cricket World Cup, List of Indian Test cricketers, and List of Indian ODI cricketers==Governing body== Main article: Board of Control for Cricket in IndiaThe Board of Control for Cricket in India (BCCI) is the governing body for the Indian cricket team and first class cricket in India. The Board has been operating since 1929 and represents India at the International Cricket Council. It is amongst the richest sporting organisations in the world, and it sold media rights for India's matches from 2006–2010 for US$ 612,000,000.[33] It manages the Indian team's sponsorships, its future tours and team selection.
The International Cricket Council determines India's upcoming matches through its future tours program. However, the BCCI, with its influential financial position in the cricketing world, has often challenged the ICC's program and called for more tours between India, Australia, Pakistan and England which are more likely to earn more revenue as opposed to tours with Bangladesh or Zimbabwe.[34] In the past, the BCCI has also come into conflict with the ICC regarding sponsorships[35] and the legitimacy of the ICC Champions Trophy.
Selection Committee
[
]
Main article: Indian national cricket selectorsSelection for the Indian cricket team occurs through the BCCI's zonal selection policy, where each of the five zones is represented with one selector and one of the members nominated by BCCI as the Chairman of the Selection Committee. This has sometimes led to controversy as to whether these selectors are biased towards their zones.[36]
The current chairman of Selection Committee is Sandeep Patil. Roger Binny, Vikram Rathore, Saba Karim and Rajinder Hans are the other members of the selection committee[37] whose terms started in September 2012 with BCCI holding the rights for a one-year extension.
Tournament history
[
]
†Cricket was played only at the 1998 Commonwealth Games.
Individual Records
[
]
[36][37]Sachin Tendulkar celebrates his 38th Test century during a match against Australia in 2008. Tendulkar holds multiple world records including the world's leading run-scorer and century maker in both Tests and ODIs.[38]Main article: Indian cricket team recordsSachin Tendulkar, who began playing for India as a 16-year-old in 1989 and has since become the most prolific run-scorer in the history of both Test and ODI cricket, is easily the batsman with the most national achievements. He holds the record of most appearances in both Tests and ODIs, most runs in both Tests and ODIs and most centuries in Tests and ODIs. The highest score by an Indian is the 319 scored by Virender Sehwag in Chennai. It is the second triple century in Test cricket by an Indian, the first being a 309 also made by Sehwag although against Pakistan. The team's highest ever score was a 726/9 against Sri Lanka at Brabourne Stadium, Mumbai in 2009, while its lowest was 42 against England in 1974. In ODIs, the team's highest is 413/5 against Bermuda in the 2007 Cricket World Cup. In the same match, India set a world record of the highest winning margin of 257 runs in an ODI match.
India also has had some very strong bowling figures, with spin bowler Anil Kumble being a member of the elite group of 3 bowlers who have taken 600 Test wickets. In 1999, Anil Kumble emulated Jim Laker to become the second bowler to take all ten wickets in a Test match innings when he took 10 wickets for 74 runs against Pakistan at the Feroz Shah Kotla in Delhi.
Many of the Indian cricket team's records are also world records, for example Sachin Tendulkar's century tally (in Tests and ODIs) and run tally (also in both Tests and ODIs). Mahendra Singh Dhoni's 183 not out against Sri Lanka in 2005 is the world record score by a wicketkeeper in ODIs. The Indian cricket team also holds the record sequence of 17 successful run-chases in ODIs,[39] which ended in a dramatic match against the West Indies in May 2006, which India lost by just 1 run when Yuvraj Singh was bowled by Dwayne Bravo's full toss.
Sachin Tendulkar was the first batsman to score 200 runs (He was unbeaten at 200* which he achieved from 147 deliveries) (25x4 | 3x6), in a single innings, in an ODI on the 24 Feb 2010 against South Africa in Gwalior. On 8 December 2011, this achievement was eclipsed by compatriot Virender Sehwag, who scored 219 runs from 149 deliveries (25x4 | 7x6) versus West Indies in Indore, making the ODI double century club exclusively Indian.
Team colours
[
]
Since colours have made their way in International Cricket, Indian National Cricket Team has chosen blue as their primary colour and have worn one or the other shade of blue. The blue colour of their uniform has also earned them the nickname of "Men in Blue". With the advent of the World Series Cup in the 1970s, each team was to don a primary and secondary colour on their uniforms. The Indian team elected to wear light-blue as their primary colour and yellow as their secondary colour. Even during the 1999 Cricket World Cup the secondary colour on the Indian cricket team's clothing has been yellow. However, this has since been removed and replaced with the tricolour. However, in the past the Indian ODI outfits were changed to different shades of blue, mostly darker than the current,[citation needed] and the team donned purple during 1992, and then the sky blue colour for the next decade. Indian team has got a new kit from 2009 which is feroza blue with India written on it in Orange.[40] Currently, from October 2010, the team is once again using a light blue shade though not as light as the previous sky blue one, with India written in orange, and shades of the tri-colour at the sides. The kit sponsor for the Indian Cricket Team is Nike, which in 2005 bought the kit rights in a $27.2 million contract with BCCI.[41]
Due to their love for blue color Nike with Board for Control of Cricket in India launched the mega campaign called "Bleed Blue" for the support of Indian team in ICC Cricket World Cup 2011 which turned out to be a huge success and people over the internet and places adopted this to cheer for India.[42]
A new ultramarine blue colored jersey of the one-day cricket team was released on 20 October 2010 .,[43] for the upcoming tours and ICC Cricket World Cup, the jersey has been designed by team's apparel and kit sponsor Nike. Previously, the Indian cricket team has worn a darker shade of blue and before that the team has worn sky blue. The vertical tri-colour band has been made on both sides in comparison to just one side in previous shirt. The name of sponsor Sahara had been removed from the chest as per ICC norms and is now on the left arm and on the right arm Nike logo is visible. The name and jersey number of the player is printed in orange at the back while on the chest the logo of BCCI is on the left side and the ICC Cricket World Cup 2011 logo in white can be seen on the right side. The one-day cap was also sky blue with the BCCI logo on the front.
When playing first-class cricket, in addition to their cricket whites, Indian fielders sometimes wear a sunhat, which is dark blue and has a wide brim, with the BCCI logo in the middle of the front of the hat. Helmets are coloured similarly. Some players sport the Indian flag on their helmet. The current kit sponsor for the Indian team is Nike, Inc.
Test cricket grounds
[
]
Main article: List of cricket grounds in IndiaBarabatiWankhedeBrabourne/GymkhanaEden GardensFeroz Shah KotlaGandhiGreen ParkKDSB/UniversityLB ShastriM ChinnaswamyMACNehruPCASardar PatelSawai MansinghSector 16Vidarbha CALocations of all stadiums which have hosted a Test match within IndiaThere are numerous world-renowned cricket stadiums located in India. Most grounds are under the administration of various State Cricket Boards as opposed to being under the control of the BCCI. The Bombay Gymkhana was the first ground in India to host a full-scale cricket match featuring an Indian cricket team. This was between the Parsis and the Europeans in 1877. The first stadium to host a Test match in India was also the Gymkhana Ground in Bombay in 1933, the only Test it ever hosted. The second and third Tests in the 1933 series were hosted at Eden Gardens and Chepauk. The Feroz Shah Kotla in Delhi was the first stadium to host a Test match after independence, a draw against the West Indies in 1948, the first of a 5-Test series. Nineteen stadiums in India have hosted official Test matches. In recent years, there has been an increase in the number of world-class cricket stadiums in India, with multiple Test venues in Lucknow, Chandigarh, Chennai and Mumbai.
Eden Gardens in Kolkata has hosted the most Tests, and also has the largest capacity of any cricket stadium in the world, being capable of holding more than 90,000 spectators.[44] Founded in 1864, it is one of the most historical stadiums in India, having hosted numerous controversial and historical matches.[45] Other major stadiums in India include the Feroz Shah Kotla, which was established in 1883 and hosted memorable matches including Anil Kumble's ten wickets in an innings haul against Pakistan. For the last two years, the ground has been undergoing renovation.[46]
The Bombay Gymkhana hosted the first ever test match in India, the only test it has hosted to date. Wankhede Stadium, established in 1974 it has a capacity to hold 33,000 spectators is currently the most popluar venue in the city. It has hosted 21 Test matches. It was the unofficial successor of the Brabourne Stadium, which is also located in Mumbai. Mumbai is often considered the cricketing capital of India because of its fans and the talent it produces (see Mumbai cricket team) and thus the stadium regularly hosts major Test matches.[47] The M. A. Chidambaram Stadium in Chepauk is also considered to be an important historical Indian cricket ground, established in the early 1900s it was the site of India's first Test victory.[48] Similarly, the Barabati Stadium, Gandhi Stadium, K. D. Singh Babu Stadium, Lal Bahadur Shastri Stadium, Nehru Stadium, Sector 16 Stadium and University Ground have not hosted a Test match in the last 10 years.
Personnel
[
]
This lists all the players who have played for India in the past year, and the forms in which they have played. Correct as of 20 September 2012.
Key
C/G = Contract grade
S/N = Shirt number
Name
Age
Batting Style
Bowling Style
Domestic team
Zone
C/G
Forms
S/N
IPL Team
Captain and wicket-keeper
Mahendra Singh Dhoni
31
Right Hand Bat
Right Medium
Jharkhand
East
A
Test, ODI, T20I
7
Chennai Super Kings
Vice Captain and Middle-order batsman
Virat Kohli
23
Right Hand Bat
Right Medium
Delhi
North
A
Test, ODI, T20I
18
Royal Challengers Bangalore
Opening batsmen
Gautam Gambhir
31
Left Hand Bat
Leg Break
Delhi
North
A
Test, ODI, T20I
5
Kolkata Knight Riders
Ajinkya Rahane
24
Right Hand Bat
Right Medium
Mumbai
West
C
ODI, T20I
37
Rajasthan Royals
Virender Sehwag
33
Right Hand Bat
Off Break
Delhi
North
A
Test, ODI, T20I
N/A[49]
Delhi Daredevils
Robin Uthappa
26
Right Hand Bat
Right Medium
Karnataka
South
–
T20I
17
Pune Warriors
Middle-order batsmen
Cheteshwar Pujara
24
Right Hand Bat
Leg Break
Saurashtra
West
C
Test
15
Royal Challengers Bangalore
Suresh Raina
25
Left Hand Bat
Off Break
Uttar Pradesh
Central
A
Test, ODI, T20I
48
Chennai Super Kings
Rohit Sharma
25
Right Hand Bat
Off Break
Mumbai
West
B
ODI, T20I
77
Mumbai Indians
Sachin Tendulkar
39
Right Hand Bat
Leg Break/Off Break
Mumbai
West
A
Test, ODI
10
Mumbai Indians
Manoj Tiwary
26
Right Hand Bat
Leg Break
Bengal
East
C
ODI, T20I
9
Kolkata Knight Riders
Wicket-keepers
Parthiv Patel
27
Left Hand Bat
Gujarat
West
C
ODI
42
Deccan Chargers
Wriddhiman Saha
27
Right Hand Bat
Bengal
East
C
Test
6
Chennai Super Kings
All-rounders
Ravindra Jadeja
23
Left Hand Bat
Slow Left Arm
Saurashtra
West
B
ODI, T20I
88
Chennai Super Kings
Irfan Pathan
27
Left Hand Bat
Left Medium Fast
Baroda
West
–
ODI, T20I
56
Delhi Daredevils
Yusuf Pathan
29
Right Hand Bat
Off Break
Baroda
West
–
ODI, T20I
27
Kolkata Knight Riders
Yuvraj Singh
30
Left Hand Bat
Slow Left Arm
Punjab
North
A
Test, T20I
12
Pune Warriors
Pace bowlers
Varun Aaron
22
Right Hand Bat
Right Fast
Jharkhand
East
C
Test, ODI
77
Delhi Daredevils
Lakshmipathy Balaji
31
Right Hand Bat
Right Medium Fast
Tamil Nadu
South
–
T20I
55
Kolkata Knight Riders
Ashok Dinda
28
Right Hand Bat
Right Fast Medium
Bengal
East
–
ODI, T20I
2
Pune Warriors
Zaheer Khan
34
Right Hand Bat
Left Fast Medium
Mumbai
West
A
Test, ODI, T20I
34
Royal Challengers Bangalore
Praveen Kumar
26
Right Hand Bat
Right Medium Fast
Uttar Pradesh
Central
B
ODI, T20I
8
Kings XI Punjab
Vinay Kumar
28
Right Hand Bat
Right Medium Fast
Karnataka
South
C
Test, ODI, T20I
23
Royal Challengers Bangalore
Ishant Sharma
24
Right Hand Bat
Right Fast Medium
Delhi
North
A
Test
29
Deccan Chargers
Umesh Yadav
24
Right Hand Bat
Right Fast
Vidarbha
Central
C
Test, ODI, T20I
73
Delhi Daredevils
Spin bowlers
Ravichandran Ashwin
26
Right Hand Bat
Off Break
Tamil Nadu
South
B
Test, ODI, T20I
99
Chennai Super Kings
Piyush Chawla
23
Left Hand Bat
Leg Break
Uttar Pradesh
Central
C
T20I
24
Kings XI Punjab
Pragyan Ojha
26
Left Hand Bat
Slow Left Arm
Hyderabad
South
B
Test, ODI
30
Mumbai Indians
Rahul Sharma
25
Right Hand Bat
Leg Break
Punjab
North
C
ODI, T20I
4
Pune Warriors
Harbhajan Singh
32
Right Hand Bat
Off Break
Punjab
North
A
T20I
3
Mumbai Indians
Other contracted players
This lists other players who have not played for India in the past year but hold a Central Contract by BCCI.
The BCCI awards central contracts to its players, its pay graded according to the importance of the player. Players' salaries are as follows:
Grade A – 1 Crore per annum ($ 180,000)
Grade B – 50 Lakhs per annum ($ 90,000)
Grade C – 25 Lakhs per annum ($ 45,000)
Coaching staff
[
]
Statistics
[
]
Test Matches
[
]
Test record versus other nations[50]
Most Test runs for India[51]

| Player | Runs | Average |
| --- | --- | --- |
| Sachin Tendulkar | 15,533 | 55.08 |
| Rahul Dravid | 13,288 | 52.31 |
| Sunil Gavaskar | 10,122 | 51.12 |
| V. V. S. Laxman | 8,781 | 45.97 |
| Virender Sehwag | 8,178 | 50.79 |
| Sourav Ganguly | 7,212 | 42.17 |
| Dilip Vengsarkar | 6,868 | 42.13 |
| Mohammad Azharuddin | 6,215 | 45.03 |
| Gundappa Vishwanath | 6,080 | 41.93 |
| Kapil Dev | 5,248 | 31.05 |

Most Test wickets for India[52]
One-Day Internationals
[
]
ODI record versus other nations[53]
Most ODI runs for India[54]

| Player | Runs | Average |
| --- | --- | --- |
| Sachin Tendulkar | 18,426 | 44.83 |
| Sourav Ganguly | 11,221 | 40.95 |
| Rahul Dravid | 10,768 | 39.15 |
| Mohammad Azharuddin | 9,378 | 36.92 |
| Virender Sehwag | 7,960 | 35.53 |
| Yuvraj Singh | 7,959 | 37.54 |
| M. S. Dhoni | 6,734 | 50.63 |
| Ajay Jadeja | 5,359 | 37.47 |
| Gautam Gambhir | 5,077 | 40.94 |
| Navjot Sidhu | 4,413 | 37.08 |

Most ODI wickets for India[55]
Twenty20 Internationals
[
]
T20I record versus other nations[56]
| | |
| --- | --- |
| Most T20I runs for India[57] | Most T20I wickets for India[58] |
Players in bold text are still active with India.
Captains
[
]
Main article: List of India national cricket captainsSourav Ganguly holds the record for most Tests as India captain (49) and most wins (21).[59]Rahul Dravid served as the captain of the Indian cricket team from 2005 to 2007.Twenty-eight men have captained the Indian cricket team in at least 1 Test match, although only 6 have led the team in more than 25 matches, and 5 have captained the team in ODIs but not Tests. India's first captain was CK Nayudu, who led the team in four matches against England, one in England in 1932 and a series of 3 matches at home in 1933/4. Lala Amarnath, India's fourth captain, led the team in its first Test match after Indian independence. He also captained the side to its first Test victory and first series win, both in a 3-match series at home against Pakistan in 1952/3. The Nawab of Pataudi was captain for 36 matches from 1961/2 to 1969/70, returning for a final 4 matches against West Indies in 1974/5.
India played its first ODI in 1974, under the captaincy of Ajit Wadekar. India won its first ODI under the captaincy of Srinivasaraghavan Venkataraghavan in the 1975 Cricket World Cup, against East Africa.
Sunil Gavaskar took over as Test and ODI captain in the late 1979s and early 1980s, leading India in 47 Test matches and 38 ODIs, winning 9 Tests and 14 ODIs. He was succeeded by Kapil Dev in the 1980s, who continued for 34 Test matches, including 4 victories. Kapil Dev led India to victory in 40 of his 74 ODIs in charge, including the 1983 Cricket World Cup. [38][39]Mahendra Singh Dhoni (blue helmet) serves as the current captain and wicketkeeper of the Indian cricket team.Dilip Vengsarkar took over the captaincy from Kapil Dev after the 1987 Cricket World Cup. Although he started with two centuries in his first series as captain, his captaincy period was turbulent[citation needed] and he lost the job following a disastrous tour of the West Indies in early 1989 and a stand-off with the Indian cricket board (BCCI).
Krishnamachari Srikkanth was made the captain of the Indian team in 1989.He was the captain of the team for India's tour of Pakistan in 1989 and managed to draw all the four Tests of the series. Because of his batting failures in the series[citation needed],the selectors dropped him and made Mohammad Azharuddin captain of the Indian team.
India has had six regular Test captains since Mohammad Azharuddin took charge in 1989. Azharuddin led the team in 47 Test matches from 1989/90 to 1998/9, winning 14, and in 173 ODIs, winning 89. He was followed by Sachin Tendulkar, who captained India in 25 Test matches and 73 ODIs in the late 1990s; Tendulkar was relatively unsuccessful[citation needed] as a captain, winning only 4 Test matches and 23 ODIs. He was replaced as ODI captain by Ajay Jadeja and then Sourav Ganguly;
Ganguly became the regular captain in both forms of cricket in 2000. Ganguly remained captain for the first 5 years of the 2000s and was the most successful captain, winning 21 of his 49 Test matches in charge and 73 of his 141 ODIs. He even lead India to the final of the ICC Cricket World Cup in 2003. Rahul Dravid took over as Test captain in 2005. In his fourth full series in charge, he led India to victory in the West Indies, the first instance of India winning in the Caribbean in over 30 years. In September 2007, Mahendra Singh Dhoni was named as the new captain of the Twenty20 and ODI team after Dravid stepped down from the post. Anil Kumble was appointed Test captain in November 2007, but retired from international cricket in November 2008 after the 3rd Test between India and Australia. Dhoni succeeded him as the test captain, making him the official captain in all forms of cricket.