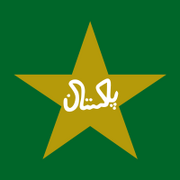 The Pakistan cricket team (پاک کرکٹ), nicknamed as Green Shirts, is the national cricket team of Pakistan. Represented by the Pakistan Cricket Board (PCB), the team is a full member of the International Cricket Council, and participates in Test, ODI and t20s cricket matches. Currently Pakistan is ranked number four as per the ICC Test rankings.[1] Pakistan have played 777 ODIs, winning 417, losing 337, tying 6 and with 17 ending in no-result.[2] Pakistan were the 1992 World Cup champions, and also came runners-up in the 1999 tournament and are the current Asian Champions. Pakistan, in conjunction with other countries on the Subcontinent, have hosted the 1987 & 1996, with the 1996 final being hosted at Gaddafi Stadium in Lahore. The team has also played 63 Twenty20 Internationals, the most of any team, winning 38, losing 23 and tying 2.[3] Pakistan won the 2009 ICC World Twenty20 and came runners-up in the inaugural tournament in 2007.
Pakistan have played 370 Test matches, with winning 115, losing 101 and drawing 154. The team has the 3rd-best win/loss ratio in Test cricket of 1.13, and the 5th-best overall win percentage of 31.33%.[4] Pakistan was given Test status on 28 July 1952, following a recommendation by India, and made its Test debut against India at Feroz Shah Kotla, Delhi, in October 1952, with India winning by an innings and 70 runs.[5] Previously, Pakistani cricketers had competed as a part of the British Indian national team before independence of Pakistan in 1947.
History
[
]
Main article:

History of the Pakistani cricket team
See also:
Cricket in Pakistan
,
History of cricket in Pakistan from 1947 to 1970
,
History of cricket in Pakistan from 1971 to 1985
,
History of cricket in Pakistan from 1986 to 2000
, and
History of cricket in Pakistan from 2001
Following the independence of Pakistan in 1947, cricket in the country developed steadily and Pakistan was given Test match status at a meeting of the Imperial Cricket Conference at Lord's Cricket Ground in England on 28 July 1952 following recommendation by India,[6] which, being the successor state of the British Raj, did not have to go through such a process. The first captain of the Pakistan national cricket team was Abdul Kardar.
Pakistan's first Test match was played in Delhi in October 1952 as part of a five Test series which India won 2–1. Pakistan made their first tour of England in 1954 and drew the series 1–1 after a memorable victory at The Oval in which fast bowler Fazal Mahmood took 12 wickets. Pakistan's first home Test match was in Dacca in January 1955 against India, after which four more Test matches were played in Bahawalpur, Lahore, Peshawar and Karachi (all five matches in the series were drawn, the first such occurrence in test history[7]).
The team is considered a strong but unpredictable team. Traditionally Pakistani cricket has been filled with players of great talent but limited discipline, making them a team which could play inspirational cricket one day and then perform less than ordinarily another day. Over the years, competitions between India and Pakistan have always been emotionally charged and provide for intriguing contests, as talented teams and players from both sides of the border elevate their game to new levels to produce high-quality cricket. Pakistani contest with India in the Cricket World Cup have seen packed stadiums and elevated atmospheres no matter where the World Cup has been held.
1986 Austral-Asia Cup
[
]
Main article:

Austral-Asia Cup
The 1986 Austral-Asia Cup, played in Sharjah in the United Arab Emirates, is remembered as a famous last-ball victory for Pakistan against arch-rivals India, with Javed Miandad emerging as a national hero.[8] India batted first and set a target of 245 runs, leaving Pakistan with a required run rate of 4.92 runs per over. Javed Miandad came in to bat at number 3 and Pakistan lost wickets at regular intervals. Later recalling the match, Miandad stated that his main focus was to lose with dignity. With 31 runs needed in the last three overs, Miandad hit a string of boundaries while batting with his team's lower order, until four runs were required from the last delivery of the match. Miandad received a leg side full toss from Chetan Sharma, which he hit for six over the midwicket boundary.[8][9]
1992 Cricket World Cup
[
]
Main article:

1992 Cricket World Cup
At the 1992 World Cup Semi Final, having won the toss, New Zealand chose to bat first and ended with a total of 262 runs. Pakistan batted conservatively yet lost wickets at regular intervals. With the departure of Imran Khan and Saleem Malik shortly thereafter, Pakistan still required 115 runs at a rate of 7.67 runs per over with veteran Javed Miandad being the only known batsman remaining at the crease. A young Inzamam-ul-Haq, who had just turned 22 and was not a well-known player at the time, burst onto the international stage with a match-winning 60 off 37 balls. Once Inzamam got out, Pakistan required 36 runs from 30 balls, which wicketkeeper Moin Khan ended with a towering six over long off, followed by the winning boundary to midwicket. The match is seen as the emergence of Inzamam onto the international stage.[10][11][12]
The 1992 Cricket World Cup in Australia and New Zealand marked Pakistan's first World Cup victory. It is remembered for the comeback Pakistan made after losing key players such as Waqar Younis and Saeed Anwar and being led by an injured captain in Imran Khan. Pakistan lost 3 of their first 5 matches and were nearly eliminated in the first round of the tournament after being bowled out for 74 runs against England, until the match was declared as a "no result" due to rain. Imran Khan famously told the team to play as "cornered tigers", after which Pakistan won five successive matches, including, most famously, the semi-final against hosts New Zealand and the final against England.[13]
2007 Cricket World Cup
[
]
The 2007 Cricket World Cup was one of the biggest upsets in World Cup history when Pakistan was knocked out of the competition in a shock defeat to Ireland, who were playing in their first competition. Pakistan, needing to win to qualify for the next stage after losing to the West Indies in their opening match, were put into bat by Ireland. They lost wickets regularly and only 4 batsmen scored double figures. In the end they were bowled out by the Irish for 132 runs. The Irish went on to win the match, after Niall O'Brien scored 72 runs. This meant that Pakistan had been knocked out during the first round for the second consecutive World Cup.[14][15][16] Tragedy struck the team when coach Bob Woolmer died one day later on 18 March 2007 in a hospital in Kingston, Jamaica. Jamaican police spokesman, Karl Angell, reported on 23 March 2007 that, "Mr Woolmer's death was due to asphyxiation as a result of manual strangulation" and that, "Mr Woolmer's death is now being treated by the Jamaica police as a case of murder."[17] Assistant coach Mushtaq Ahmed acted as temporary coach for the team's final group game of the tournament.[18] Subsequent to his team's defeat and the death of Woolmer, Inzamam-ul-Haq announced his resignation as captain of the team and his retirement from one-day cricket, stating that he would continue to take part in Test cricket but not as captain.[19] Shoaib Malik was announced as his successor.[20] Following his return to the squad, Salman Butt was appointed as vice-captain until December 2007.[21]
On 23 March 2007, Pakistan players and officials were questioned by Jamaican police and submitted DNA samples along with fingerprints, as part of the routine enquiries in the investigation into Woolmer's murder.[22] Three days after leaving the West Indies for Pakistan, via London, the Pakistan team were ruled out as suspects. The deputy commissioner of Jamaican police. Mark Shields, the detective in charge of the investigation, announced, "It's fair to say they are now being treated as witnesses." "I have got no evidence to suggest it was anybody in the squad."[23] A memorial service was held in Sacred Heart Church, Lahore, for Bob Woolmer on 1 April 2007. Among the attendees were Pakistan players and dignitaries, including Inzamam-ul-Haq, who was quoted as saying, "After Woolmer's family, the Pakistan team was the most aggrieved by his death."[24] After the World Cup ended, serious doubts were raised about the investigation, with increasing speculation that Woolmer died of natural causes. This has now been accepted as fact, and the case has been closed.[25]
On 20 April 2007, a PCB official announced that former Test cricketer Talat Ali would act as interim coach, in addition to his role as team manager, until a new coach had been appointed.[26] On 16 July 2007, Geoff Lawson, previously head coach of New South Wales, was appointed coach of the Pakistan for two years, becoming the third foreigner to take on the role.[27] In the 2007 ICC World Twenty20, Pakistan exceeded expectations to reach the final but ended as runners-up, after losing the final to India in a nail-biting finish. On 25 October 2008, Intikhab Alam was named as a national coach of the team by the PCB.
2009 ICC World T20
[
]
On 21 June 2009 Pakistan won the 2009 ICC World Twenty20, beating Sri Lanka in the final by eight wickets. Pakistan had begun the tournament slowly losing two of their first three matches but after dismissing New Zealand for 99 runs in the Super 8 stage they had a run of four consecutive wins including beating previously unbeaten South Africa, in the semi-final and Sri Lanka.
2011 Cricket World Cup
[
]
Pakistan started well in the ICC Cricket World Cup, which was held in India, Sri Lanka and Bangladesh, after beating Kenya, Sri Lanka(one of the tournament favourites) and narrowly beating Canada. After a huge loss against New Zealand, Pakistan defeated Zimbabwe by 7 wickets.'. One of the highlights of the tournament for Pakistan was when they beat Australia, who were led by 3 brilliant pace bowlers, Brett Lee, Shaun Tait and Mitchell Johnson. However Pakistan defied the odds and defeated Australia, courtesy of a brilliant bowling display. In the Quarter-Finals they played West Indies. Pakistan were ruthless, as they emphatically beat the West Indies by 10 wickets, due to another brilliant bowling display. In the Semi-Finals on 30 March, Pakistan had a match with its fiercest rival, India. India, due to Tendulkar who was dropped several times, managed 260 after they batted first. Due to a slow chase, Pakistan were 29 runs short as India reached the final (India went on to win the final). Pakistan have never defeated India in an ODI World Cup match to date, losing in all 5 matches contested between the two sides.
2012 ICC World T20 Cricket
[
]
On 11 July 2012, Pakistan announced a provisional 30-man squad for the World Twenty20 starting in Sri Lanka on 18 September.[28] The 30-member provisional squad will be pruned to 15 next month. While naming the probables, the selectors refrained from announcing the captain. Mohammad Hafeez, who led Pakistan in their T20I series in Sri Lanka last month, is widely expected to retain his place, especially after the retirement from the T20 game of Misbah-ul-Haq, the Test and one-day captain.
Governing body
[
]
Main article:

Pakistan Cricket Board
The Pakistan Cricket Board (PCB) is responsible for all first class and Test cricket played in Pakistan and by the Pakistan cricket team. It was admitted to the International Cricket Council in July 1953. The corporation has been run by former cricketers, professional administrators and trustees, who are often respected businessmen. The Board governs a network of teams sponsored by corporations and banks, city associations and clubs including advertising, broadcasting rights and internet partners.[29]
The PCB's experiment with the Twenty20 cricket model has also proven popular and hopes to similarly revive popular interest in domestic games, which it did. The PCB also set up major domestic competitions such as the Quaid-i-Azam Trophy and the Faysal Bank T20 Cup.[30]
Tournament history
[
]
World Cup

World Twenty20

Champions Trophy

Asia Cup

Austral-Asia Cup

Asian Test Championship

Commonwealth Games

1975

: First Round

1979

: Semi Finals

1983

: Semi Finals

1987

: Semi Finals

1992

: Champions

1996

: Quarter Finals

1999

: Runners Up

2003

: First round

2007

: First round

2011

: Semi Finals

2007

: Runners Up

2009

: Champions

2010

: Semi Finals

1998

: Quarter Finals

2000

: Semi Finals

2002

: First round

2004

: Semi Finals

2006

: First round

2009

: Semi Finals

1984

: Third Place

1986

: Runners Up

1988

: Third Place

1990–91

: Did not participate

1995

: Third Place

1997

: Third Place

2000

: Champions

2004

: Third Place

2008

: Third Place

2010

: Third Place

2012

: Champions

1986

: Champions

1990

: Champions

1994

: Champions

1998–99

: Champions

2001–02

: Runners Up
List of International grounds
[
]
See also:
List of cricket grounds in Pakistan
| Stadium | City | Test matches | ODI matches |
| --- | --- | --- | --- |
| Gaddafi Stadium | Lahore | 39 | 57 |
| National Cricket Stadium | Karachi | 41 | 46 |
| Iqbal Stadium | Faisalabad | 24 | 16 |
| Rawalpindi Cricket Stadium | Rawalpindi | 8 | 21 |
| Arbab Niaz Stadium | Peshawar | 6 | 15 |
| Multan Cricket Stadium | Multan | 5 | 7 |
| Niaz Stadium | Hyderabad | 5 | 7 |
| Jinnah Stadium (Gujranwala) | Gujranwala | 4 | 9 |
| Bagh-e-Jinnah | Lahore | 3 | 0 |
| Sheikhupura Stadium | Sheikhupura | 2 | 2 |
| Jinnah Stadium | Sialkot | 1 | 11 |
| Ibn-e-Qasim Bagh Stadium | Multan | 1 | 6 |
| Pindi Club Ground | Rawalpindi | 1 | 2 |
| Defence Housing Authority Stadium | Karachi | 1 | 0 |
| Bahawal Stadium | Bahawalpur | 1 | 0 |
| Zafar Ali Stadium | Sahiwal | 0 | 2 |
| Ayub National Stadium | Quetta | 0 | 2 |
| Sargodha Stadium | Sargodha | 0 | 1 |
| Bugti Stadium | Quetta | 0 | 1 |
| Zahoor Elahi Stadium | Gujrat | 0 | 0 |
Pakistan women's cricket team
[
]
Main article:

Pakistan national women's cricket team
The Pakistan women's cricket team has a much lower profile than the men's team. For all national women's cricket teams, the female players are paid much less their male counterparts and the women's teams do not receive as much popular support or recognition as the men's team. The women's teams also have a less packed schedule compared to men's teams and play fewer matches. The team played it first match during 1997, when it was on tour of New Zealand and Australia and were invited to the World Cup later that year and in the Women's Asia Cup during 2005 the team came third place. During 2007, the team with face South Africa and later in the year travel to Ireland to play in the Women's World Cup Qualifier. The team also played at the T20 England World Cup, the team finished 6th place, beating Sri Lanka and South Africa in 2009.
Team Colours
[
]
In Test matches, the team wears cricket whites, with an optional sweater or sweater-vest with a green and gold V-neck for use in cold weather. The team's official sponsor's have been Pepsi since the 1990s with their logo displayed on the right side of the chest and sleeve with the Pakistan Cricket star deployed on the left in test cricket. Boom Boom Cricket signed a deal with Pakistan Cricket Board in April 2010 to become the kit sponsors of the Pakistan team, the deal ended on the end of 2012 Asia cup.[31]
Pakistan's One Day and Twenty 20 kits vary from year to year with the team wearing its famous green color in various shades from kit to kit. For official ICC Tournament's 'Pakistan' is written on the front of the jersey in place of the sponsor logo, with the sponsor logo being placed on the sleeve. However for non ICC tournaments and matches the 'Pepsi' logo feature prominently on the front of the shirt. As always the Pakistan logo is placed on the left chest. An example of the different shades of green Pakistan wears from kit to kit can be seen in the example of the 2010–11 kit which was in the famous lime green color.[32][33] However for the World Cup a new jersey with a dark green to light green fade was introduced in February 2011.[34] The Kit For The World Cup Become Popular Around The World For Its New Design. Minor changes were made to the kit after the World Cup, 'Pakistan' across the shirt was replaced with the 'Pepsi' logo, whilst the World Cup logo was replaced by the 'Boom Boom' but the jersey did not look like as same as the cwc jersey even after only some small changes. logo.[35][36] T
Logo
[
]
Pakistan's Cricket Team's Logo is a star, usually in the color Gold or Green, with the word "Pakistan" (پاکِستان) written inside in Urdu, Pakistan's national language.
Personnel
[
]
Current squad
[
]
This is a list of all the players with there forms of cricket in which they play.
Key
Domestic team –

First-class

team the player represents in the current or preceding season. If n/a, then

Limited overs

team is displayed.
C/G – The contract grade awarded by the PCB.
S/N – Shirt Number.

| | |
| --- | --- |
| A/B/C | Central Contract |
| S | Stipend Contract |
| N/A | No Contract |

General

1 - Player is also an All-rounder

Name
Age
Batting style
Bowling style
Domestic team
C/G
Forms of cricket
S/N
Opening Batsmen

Taufeeq Umar

41
Left-hand bat

Right arm off break

HBL

B
Test

Imran Farhat

40
Left-hand bat

Right arm leg break

HBL

B
Test, ODI
17

Mohammad Hafeez

1
41
Right-hand bat

Right arm off spin

HBL

A
Test, ODI
8

Imran Nazir

40
Right-hand bat

Right arm leg break

NBP

B
ODI, T20I
16

Ahmed Shehzad

30
Right-hand bat

Right arm leg spin

HBL

C
ODI, T20I
19

Nasir Jamshed

33
Left-hand bat

Right arm leg spin

HBL

B
ODI, T20I
77
Middle-Order Batsmen

Misbah Ul-Haq

48
Right-hand bat

Right arm leg spin

KRL

A
Test, ODI
22

Younis Khan

44
Right-hand bat

Right arm leg spin

,

Right arm medium

Surrey

A
Test, ODI
75

Mohammad Yousuf

47
Right-hand bat

Right Arm Medium

Warwickshire

A
Test, ODI
13

Azhar Ali

37
Right-hand bat

Right arm leg spin

KRL

B
Test, ODI
79

Asad Shafiq

35
Right-hand bat

Right arm leg spin

Karachi Blues

B
Test, ODI
81

Khurram Manzoor

35
Right-hand bat

Right arm leg spin

Karachi Blues

B
Test, ODI
91

Shoaib Malik

1
40
Right-hand bat

Right arm off spin

PIA

A
ODI, T20I
51

Umar Akmal

32
Right-hand bat

Right arm off spin

SNGPL

B
ODI, T20I
96
Wicket-Keepers

Kamran Akmal

40
Right-hand bat
–

NBP

N/A
ODI, T20I
23

Sarfraz Ahmed

35
Right-hand bat
–

PIA

C
Test, ODI
54

Adnan Akmal

37
Right-hand bat
–

ZTBL

C
Test, ODI
97
All-Rounders

Shahid Afridi

42
Right-hand bat

Right arm leg spin

HBL

A
ODI, T20I
10

Hammad Azam

31
Right-hand bat

Right arm medium

NBP

C
ODI, T20I
73

Abdul Razzaq

42
Right-hand bat

Right arm fast-medium

Hampshire

B
ODI, T20I
12
Pace Bowlers

Umar Gul

38
Right-hand bat

Right arm fast

Sussex

A
Test, ODI, T20I
55

Mohammad Sami

41
Right-hand bat

Right arm fast

NBP

B
Test, ODI, T20I
7

Aizaz Cheema

42
Right-hand bat

Right arm medium-fast

S
Test, ODI, T20I
74

Wahab Riaz

37
Right-hand bat

Left arm fast-medium

NBP

B
Test, ODI, T20I
47

Sohail Tanvir

37
Left-hand bat

Left arm medium-fast

KRL

B
ODI, T20I
33

Junaid Khan

32
Right-hand bat

Left arm medium-fast

Lancashire

C
Test, ODI, T20I
83
Spin Bowlers

Saeed Ajmal

44
Right-hand bat

Right arm off spin

KRL

A
Test, ODI, T20I
50

Abdur Rehman

42
Left-hand bat

Left-arm orthodox

HBL

A
Test, ODI, T20I
36

Correct as of 1 September 2012

Coaching staff

[

]

Management staff

[

]

Team Manager: Naveed Akram Cheema
Security Manager: Col.(R) Wasim Ahmed
Team Analyst: Umer Farooq

Records

[

]

Batting

[

]

Test Batting Records

[

]

Name
Intl. Career span
Year set
Record description
Record
Notes

Imtiaz Ahmed

1952–62
1955
4th highest test match innings by a wicketkeeper
209

Hanif Mohammad

1952–69
1958

8th highest Test match innings
Slowest Test triple century
Highest Test innings on foreign soil
4th highest Test innings by an opener

337 runs
970min

Hanif scored 337 runs against the West Indies in 1958, which was also the first triple century by an Asian cricketer, and at the time the longest innings by any batsman in terms of time spent at the wicket.

Majid Khan

1964–83
1976–77
Joint 7th fastest Test match century
74 balls

Zaheer Abbas

1969–85
1971
5th highest Test match maiden century
274

Mudassar Nazar

1976–89
1977–78
Slowest Test century
557 min

Javed Miandad

1976–96
1976

Youngest player to score a double century.
Only teenager to score a double century.

19y 140d

Career

12th most Test runs.

8,832
Miandad's record is also the most Test runs by a Pakistani.

Taslim Arif

1980
1980
3rd highest Test match innings by a wicketkeeper
210*

Shoaib Mohammad

1983–95
1990–91
9th Slowest Test match double century
411 balls

Inzamam-ul-Haq

1991–2007
Career
10th most fifties in Test cricket
71
Career
10th most fours in Test cricket
1112
Career
Joint 4th most sixes in an innings
9

Mohammad Yousuf

1998–2010
2006
Most Test match runs in a calendar year
1,788
2006
Most Test centuries in a calendar year
9
2006
Most centuries in successive Tests
6 centuries/5 tests

Shahid Afridi

1998–2010
1999
7th youngest player to score a test century
18y 333d
2004–05
Joint 2nd fastest Test fifty
26 balls
2006
2nd most runs off one over
27
2006
Joint most sixes off consecutive deliveries
4
2010
9th highest strike rate in an innings
206.66

Younis Khan

2000–10
2009
5th highest individual innings by a captain
313
Younis scored 313 against

Sri Lanka

in 2009, becoming the third Pakistani to reach a triple century, and also attaining the third highest Test Innings by a Pakistani.

Yasir Hameed

2003–10
2003
Scored centuries in both the innings of his debut test
170 & 105
Yasir Hameed, in 2003, on his Test debut he scored 170 runs in Karachi. This is the highest score by a Pakistani on debut. He also scored 105 in the second innings of the same match, becoming only player to do so after West Indies' Lawrene Row

T20 International Records
Name
Intl. Career span
Year set
Record description
Record
Notes

Kamran Akmal

2006–10
Career
7th most runs in career
704
2010
2nd highest innings by a wicketkeeper
73

Shahid Afridi

2006–10
Career
8th most runs in career
650
2010
3rd highest innings strike rate
357.14
2006
5th highest innings strike rate
280.00
2007
7th highest innings strike rate
260.00

Umar Akmal

2009–10
2010
4th most runs in a calendar year
385

One Day International Batting Records

[

]

Name
Intl. Career span
Year set
Record description
Record
Notes

Saeed Anwar

1989–2003
1997
Joint 3rd highest ODI innings.
194

Zaheer Abbas

1969–85
Career
6th highest batting average in ODI
47.62

Inzamam-Ul-Haq

1991–2007
Career
4th highest career ODI runs
11,739

Shahid Afridi

1996–present
1996
Fastest ODI century
37 balls
Afridi scored his maiden century in his maiden innings in 1996, against

Sri Lanka

at

Kenya

. He was originally in the team as a bowling replacement for

Mushtaq Ahmed

, and walked out as a pinch-hitter up the order wielding

Waqar Younis

' bat.
Career
Most Sixes in ODI
298 Sixes

Bowling

[

]

Test Bowling Records
Name
Intl. Career span
Year set
Record description
Record
Notes

Wasim Akram

1984–2003
Career
9th most Test wickets
414

Akram also holds the record of most Test wickets by a Pakistani bowler.

Waqar Younis

1989–2003
Career
Best strike rate with +200 Test wickets
43.4
Career
14th highest Test wickets
373
Waqar also holds the record of second most Test wickets by a Pakistani bowler.

One Day International Bowling Records
Name
Intl. Career span
Year set
Record description
Record
Notes

Wasim Akram

1984–2003
Career
2nd most ODI wickets
502
Akram's record was surpassed by

Muttiah Muralitharan

. Akram still holds the record of most ODI wickets by a Pakistani bowler.
Career
One of three bowlers to take 2 ODI hat-tricks
The other bowlers were Saqlain Mustaq and

Chaminda Vaas

Waqar Younis

1989–2003
Career
3rd most ODI wickets
416
Waqar also holds the record of second most ODI wickets by a Pakistani bowler.

Saqlain Mushtaq

1995–2004
Career
Fastest to reach 100, 150, 200 and 250 wickets
Career
Only spinner to take a hat-trick in an ODI

Shahid Afridi

1996 – present
Career
most wickets in single world cup as Captain
21
Shahid Afridi also holds the record.

T20 International Records
Name
Intl. Career span
Year set
Record description
Record
Notes

Umar Gul

2007–10
2009
2nd best bowling figures in a Twenty20 International
5 wickets / 6 runs
This was surpassed by Ajantha Mendis (Sri Lanka) against Australia
Career
2nd most wickets in career
55
2009
Joint 3rd most wickets in a calendar year
19
Career
Most 4 wicket hauls in career
4

Shahid Afridi

2006–10
Career
Most wickets in career
58
2009
7th most wickets in a calendar year
18
Career
Joint 2nd most 4 wicket hauls
2

Saeed Ajmal

2009–10
Career
3rd most wickets in career
54
2009 and 2010
Joint 3rd most wickets in a calendar year
19
Career
Joint 2nd most 4 wicket hauls in career
2

Mohammed Asif

2008–2011
Career
First T20 Maiden
1

Controversies

[

]

Ball Tampering

[

]

Reverse swing

[

]

Main article:

Reverse Swing

Reverse swing was first discovered by Sarfraz Nawaz in the 1970s, who then passed it on to another Pakistani bowler, Imran Khan. Khan mastered reverse swing and the evidence of reverse swing by him was seen in 1983 in a Test match against India at Karachi, where he took 5 wickets in 25 balls. Imran Khan subsequently passed this skill on to Waqar Younis and Wasim Akram who are considered to have been the finest exponents of the delivery.[1][2][3]

On Pakistan's 1992 tour of England, England had no answer to the reverse swing, a new phenomenon to them. Pakistan won the series 2–1. The series was controversial one as the Pakistani team were accused of ball tampering, particularly being discriminated against by the English media.

However, it was later proved that the Pakistani bowlers were simply ahead of their time. Following this episode, reverse swing expanded around the cricket world and more bowlers, including those from England, mastered the technique.

2006 incident

[

]

During the fourth Test against England at the Oval on 20 August 2006, ball tampering accusations were made against the Pakistani team, which resulted in the team forfeiting the match. On the fourth day of the Test, during England's second innings, the ball began to late reverse swing for Umar Gul in particular, resulting in him dismissing Alastair Cook LBW to an inswinging yorker. Four overs later, on examining the ball, umpire Darrell Hair decided there was evidence that the ball had been tampered with. He consulted with the other umpire, Billy Doctrove and penalised the Pakistani team for interfering with the condition of the ball, awarding five runs to England. Following the playing conditions for that Test, the England batsmen were allowed to choose a replacement ball from a selection of six provided. Although play continued until the end of the afternoon session, the Pakistani team decided in principle, not to reappear at the start of the third session. This decision was made in protest of what they believed to be an unjust and insensitive decision. Pakistan's claim was that the ball had been damaged by being hit to the boundary. As a result of the Pakistani team's failure to appear at the field, the umpires awarded the test to England, cricket's first and only forfeiture till July 2008 when the cricket's international governing body International Cricket Council (ICC) changed the result of the test from an English win to a draw (it was then restored to an England win in February 2009).

The Pakistani team was cleared of any wrongdoing and Darrell Hair was banned when further proceedings saw captain Inzamam-ul-Haq found not guilty of ball tampering. However, the team's protest led to him being banned for four games on the charge of bringing the game of cricket into disrepute.[4][5][6]

Match fixing

[

]

2010 spot-fixing allegations

[

]

During Pakistan Tour of England In 2010 British tabloid newspaper News of the World confirmed spot-fixing had been taking place involving 3 of the Pakistani test players.[7][8] [9]

Doping

[

]

Immediately following the 2006 ball tampering controversy was the news that front line fast bowlers Shoaib Akhtar and Mohammad Asif had both tested positive for Nandrolone, a banned anabolic steroid. Though both denied any substance abuse, on 1 November 2006 both Akhtar and Asif were banned for a period of 2 years and 1 year respectively. However, both fast bowlers were successful in their appeals with the earlier bans being revoked. The World Anti-Doping Agency made an appeal in the Court of Arbitration for Sport over the revoking of this ban.[10] However, the Court of Arbitration for Sport later dropped the case, ruling it had no jurisdiction to challenge the decision made by PCB.[11][12]

Miscellaneous Records
Name
Intl. Career span
Year set
Record description
Record
Notes

Wasim Akram

1984–2003
Career
One of 2 bowlers to achieve a hat-trick in both Test and ODI
Career
Only bowler to achieve four hat-tricks
Career
1st bowler to achieve +400 wickets in both Test and ODI

Muttiah Muralitharan

has since achieved this.

Shoaib Akhtar

1997–2011
Career
Official fastest delivery in cricket

Mohammad Sami

2001–present
Career
One of 2 bowlers to achieve a hat-trick in both Test and ODI
Career
Only bowler to achieve a Hat-trick in all three formats of the game
Career
Unofficial fastest delivery in cricket